Products for dark circles under the eyes
Hylexin is one of the first products developed to combat serious dark circles. If you've seen their picture of the model with what looks like axle grease smeared under her eyes, you get the idea. (We may think our dark circles look that bad, but does anyone really want to be reminded of it?)
Despite this bit of marketing hyperbole, we think Hylexin is a powerful tool for fighting dark under eye circles. So good in fact we highly recommend you try this stuff before you even consider surgery!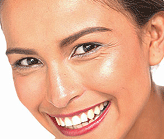 What is Hylexin?
Hylexin is a gel specially formulated to help get rid of dark circles and bags under the eyes. Hylexin is one of the very first products specifically designed to do this.
Previously, the only options for those with serious dark circles was concealer or "eye creams" that contained little more than Vitamin K and moisturizer. These creams have little effect on the main source of the dark discoloration (the oxidization of hemoglobin - read more about what causes dark circles).
What does Hylexin do?
Hylexin has a two-fold effect. First and foremost, Hylexin increases the enzymatic activity that degrades the hemoglobin under your skin. In plain English, this means that Hylexin helps to get rid of the stuff that's causing those dark circles. Your body slowly processes the hemoglobin, but Hylexin speeds up the process. The results are pretty dramatic. You can usually see a difference within a few minutes.
Secondly, Hylexin helps to strengthen the capillaries and blood vessels under the skin. Gynostemma is a botanical compound thought to strengthen blood vessels, which helps to prevent future leakage that would lead to dark circles.
Finally, Hylexin helps to soothe the inflammation that causes puffiness and bags under the eyes.
Hylexin ingredients
Hylexin is a proprietary blend of the following: Water, Glycerin, Cyclopentasiloxane, Polysilicone-11, Silica, Cetyl Alcohol, Gynostemma Pentaphyllum extract, Helianthus Annuus (Sunflower) Seed Oil, Hesperidin Methyl Chalcone, Palmitoyl Tetrapeptide-3, Dipeptide-2, Hydroxysuccinimide, Chrysin, Palmitoyl Oligopeptide, Steareth-20, Stearic Acid, Polyglyceryl-3 Beeswax, Triethanolamine, Phenoxyethanol, Methylparaben, Ethylparaben, Propylparaben, Butylparaben, Isobutylparaben.
Our advice
If you haven't tried Hylexin for your dark circles, you should give it a try. It's quite expensive but it does last a long time. And it's a lot cheaper than surgery.