Make up tips for dark circles
Make up can help you conceal the dark circles under your eyes. This solution can work for men as well as women, though most men aren't willing to try make up.
These make up tips should help you camouflage your dark circles effectively. If you find yourself reading this page more than once, or buying your second Iman Corrective Concealer, you should seriously consider taking steps to get rid of dark circles for good.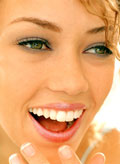 Concealer for dark circles
The best concealer we know of is Iman Corrective Concealer. It's available in a limited number of colors but goes on liquid and dries to a matte finish. Use your ring finger to tap the concealer under your eye, very lightly, working from the corner of the eye to the outside until the concealer is totally blended with your skin.
Choose a color that's a little lighter than your usual shade if your dark circles are deep hollows (like mine), and go a little darker than usual if your dark circles are puffy.
You can use other concealers, but lighter shades of regular makeup just won't cut it. Ideally you want a product that contains mica and bismuth oxychloride, because they glitter and reflect light in dark areas. Oleda Dark Circle Concealer is another great choice for concealing dark circles.
If you use a liquid concealer that doesn't dry matte, cover with a light application of powder.
Vitamin K creams for dark circles
There are a number of eye creams that contain Vitamin K, which helps to strengthen the capillary walls of the skin and prevent dark circles. The problem is that this solution doesn't work right away - it takes quite a while for the Vitamin K to really make a difference.
Vita-K Solution Gel and Peter Thomas Roth Power K Eye Rescue are both recommended Vitamin K creams.
Other make up tips for dark circles
When choosing make up, remember to counter balance the most prominent undertone of your dark circles. A yellow-base concealer corrects most dark circles.
If you use too much concealer to try to hide your dark circles, you'll wind up making them more obvious. So remember to keep a light touch.
Don't use mascara on your bottom lashes, because the flakes of mascara that frequently fall from the bottom lashes will make your dark circles look darker.
Invest in a tube of eye circle cream! Get rid of your dark circles instead of just covering them up - that's the best advice we can give you.